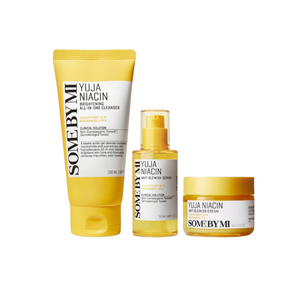 Set Includes:
Some By Mi Yuja Niacine Brightening All-In-One Cleanser 100ml
Some By Mi Yuja Niacin Anti-Blemish Serum 50ml
Some By Mi Yuja Niacin Anti-Blemish Cream 60g
These products all have a high concentration of Yuja extract (rich in vitamin C) as well as niacinamide which effectively assists in fading freckles, blemishes and hyperpigmentation.
Main ingredient:
Niacinamide – Also known as vitamin B3, niacinamide is a very effective skin-restoring ingredient that offers multiple benefits for ageing and acne-prone skin. Among these benefits is the ability to visibly improve the appearance of enlarged pores and uneven skin tone, diminish fine lines and dullness as well as strengthen a weakened skin barrier.
Arbutin – A fantastic antioxidant and ingredient for brightening and evening out skin-tone. It also works to inhibit hyperpigmentation from forming post-skindamage.
Ascorbyl Glucoside – A stable form of Vitamin C. It functions as an antioxidant and works well with other replenishing and antioxidant ingredients to preserve key substances skin needs to look smoother, brighter, and younger.
Glutathione – Powerful, non-enzymatic antioxidant which naturally occurs in the skin where it serves to help defend it against the visible effects of environmental damage. It is comprised of three different peptides making it also great as an anti-ageing ingredient. It is also great for treating hyperpigmentation and for brightening.
On the fence about this Some By Mi Yuja Niacin Set? Don't be. Let our satisfaction guarantee address your concerns.

Inventory Last Updated: Sep 26, 2023