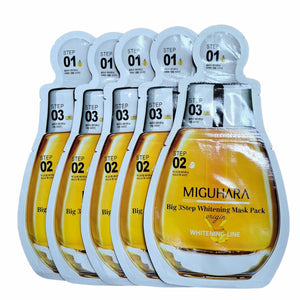 Miguhara Ultra Whitening line for clear and brighter skin.
The line includes chamomile water, for soothing and brightening skin. It aims to help reduce redness, acne scarring and hyperpigmentation. Usually, when brightening skin, people go for Vitamin C. But, Vitamin C can be vulnerable to light exposure and therefore, it's effects reduced. Chamomile doesn't have this problem, it's mix of antioxidants can help to tighten skin, reduce pores and accelerate skin regeneration.
The Miguhara Big 3 Step Whitening Mask Pack are an extra to use once or twice a week.
It has three steps to the mask process:
Step 1: Ultra Whitening Perfect Ampoule
Step 2: Big 3 Step Whitening Mask Pack
Step 3: Ultra Whitening cream
The Miguhara Big 3 Step Whitening Mask is evocative, to say the least, but that's why you're drawn to it in the first place.

Inventory Last Updated: Dec 11, 2023