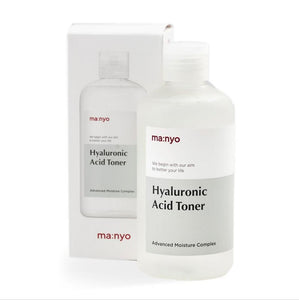 Size: 250ml (2024/05/29)
Hyaluronic Acid Hydrating Repair Skin Toner intensively hydrates skin and restores a long-lasting moisture balance. Based on the dual layer hyaluronic acid product innovative formula, natural moisturizing ingredients and 97.95% natural composition it restores the optimal level of the epidermis natural moisturizing factor (NMF)

NMF (natural Moisturizing Factor) is a complex of molecules located in the epidermis matrix and are responsible for moisturizing and retaining moisture in skin. NMF is one of the most important and essential elements of healthy skin.

Natural Moisturizing Factor functions:

maintain optimal epidermis moisture level to provide skin cells proper functioning;
hydrolipidic skin barrier function support;
skin elasticity support;
minimizing transepidermal moisture loss and maximizing long-term retention of water molecules in skin;
prevent skin dehydration;
prevent excessive moisture amounts (swelling).
Factors causing the NMF level decrease:

Age-related NMF level decrease The natural moisturizing factor (NMF) begins to gradually decrease after reaching 20 years old age. Due to loss of collagen and elastin, skin is progressively losing elasticity and firmness.
Harmful chemicals and environment influence Parabens, benzophenones, triclosan, etc., contained in cheap cosmetic products, destroy the natural moisturizing factor. The NMF level is also influenced by the atmospheric humidity, UV radiation intensity, body hydration level and diet.

DUAL LAYER HYALURONIC ACID SYSTEM
Hyaluronic acid is a polymer molecule present in all tissues of the human body. It consists of the carbohydrate structured small compounds. The largest amount of the hyaluronic acid is present in human skin, cartilage and eyes. This substance contributes to the integrity of cell structure, because it plays an important role in preserving water by filling up the space between cells.

Hyaluronic acid is divided into high-molecular Hyaluronic acid and low-molecular Hyaluronic acid by molecular mass.

The high molecular weight acid has molecules with a long polysaccharide chain and is unable to penetrate into deep layers of skin when applied externally. Its action is limited on skin surface, where it forms a thin film and retains moisture collected from air inside skin.
Low molecular weight acid has molecules with a short chain, so it penetrates into deeper layers of skin, without losing its properties, binds and retains moisture, has anti-inflammatory effect, as well as providing natural UV protection.
Hyaluronic Acid Hydrating Repair Skin Toner restores the NMF deficiency in epidermis, prevents moisture evaporation, serves as a shield against harmful substances thus protecting outer skin layers.

NMF components:
Improve skin elasticity and firmness, maintain healthy skin look help to prevent peeling and cracks caused by thermal and mechanical (cleansing, washing, wind, etc.) stress.

How to use

Place a necessary amount of toner on palm or a cotton pad.
Gently apply toner onto cleansed yet wet skin avoiding the area around eyes and lips.


Ingredients
Mineral Water, Carbonated Water, Hydrolyzed Collagen Extract, Glycerin, Propanediol, Sodium Hyaluronate, Panthenol, Sodium PCA, Urea, Uric Acid, Calcium Chloride, Potassium Chloride, Magnesium Chloride, Ceramide NP, Oligopeptide-29, Hydrolyzed Collagen, Hydrolyzed Elastin, Beta-Glucan, Allantoin, Arbutin, Butylene Glycol, Usnea Barbata (Lichen) Extract, Water, Methylpropanediol, Chondrus Crispus Powder, Caprylyl Glycol, Glutamic acid, Threonine, Serine, 1,2-Hexanediol, Proline, Glycine, Alanine, Lactic acid, Citric Acid, Illicium Verum (Anise) Fruit Extract, Zanthoxylum Piperitum Fruit Extract, Pulsatilla Koreana Extract, Valine, Isoleucine,Tyrosine, Phenylalanine, Methionine, Cysteine, Xanthan Gum, Lysine, Histidine, Arginine, Scutellaria Baicalensis Root Extract, Aspartic acid
The Manyo Factory Hyaluronic Acid Toner is evocative, to say the least, but that's why you're drawn to it in the first place.

Inventory Last Updated: Sep 27, 2023
Customer Reviews
09/01/2021
Anonymous

United Kingdom
I recommend this product
Great
Didn't expect toner to be so hydrating. I definitely use less moisturisers now. Great buy and will last for ages