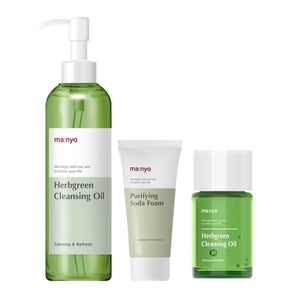 Set includes:
Herbgreen Cleansing Oil 200ml

Herbgreen Cleansing Oil 25ml

Purifying Soda Foam 20ml
Herb Green Cleansing Oil First step to cleansing for clear and clean skin with herbs from the nature while keeping the skin moisture barrier!
A gentle effective skin cleansing and makeup removal by nature! Micro plant based oil particles freshly cleanse away even the invisible skin impurities and leave only the freshness.
Concerns/Conditions: All skin types/problems
Skin Type: All skin types
Herbal hydrophilic Herb Green Cleansing Oil effectively cleanses skin of makeup and contamination, does not block pores, prevents blackheads and acne. Due to its texture, the oil penetrates deep into the pores, dissolves and pushes contamination outward, activates the deep cells of the skin, strengthening its protective layer, smoothing wrinkles and improving tone.
Hydrophilic Herb Green Cleansing Oil does not leave a sticky or greasy film on skin, does not contain artificial ingredients.
Best Before: see the packaging (2 years from the date of manufacture, 12 months after opening)
NOT TESTED ON ANIMALS. DERMATOLOGICALLY TESTED. SAFE FOR YOUR SKIN.
How To Use: Squeeze the Pure Cleansing Oil into your hand using the pipette and apply it to the dry skin with light massage movements. Wet hands with water and continue to massage until the mixture becomes a milky colour and will no longer remove the makeup. Rinse off with warm water, then clean the face with a foam cleanser.
This oil is recommended for daily use when cleansing the face of makeup.
On the fence about this Manyo Factory Herbgreen Cleansing Oil Full Care Set? Don't be. Let our satisfaction guarantee address your concerns.

Inventory Last Updated: Dec 11, 2023