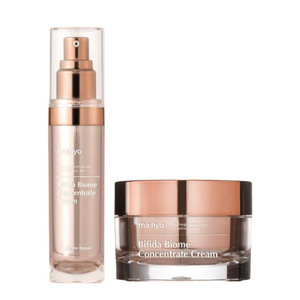 Set of three essential skincare products
Set Includes:
Ideal For:
Fighting premature skin aging
Strengthening the skin barrier
Providing moisture to the skin
ACTIVE INGREDIENTS
Lactic acid bacteria: Strengthens skin barrier and reduces skin sensitivity.
Ceramides: Protects the skin barrier and increases skin suppleness
Peptides: Stimulates the skin's own repair process.
Concerns/Conditions: Wrinkles, Dull colour, Dryness, Irritation
Skin Type: Bifida Biome Concentrate Line can be used for all skin types, but is particularly suitable for mature and / or sensitive skin.
If you are on the hunt for a perfect product for repairing the skin barrier and strengthening your skin's biome, this is the line for you!
The Manyo Bifida Biome Concentrate Nourishing Glow Set is evocative, to say the least, but that's why you're drawn to it in the first place.

Inventory Last Updated: Dec 11, 2023