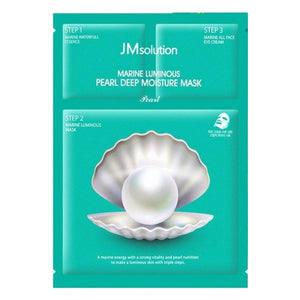 The Marine Luminous Pearl Deep Moisture Mask is an incredibly hydrating 3-step sheet mask with each step containing mineral-rich seawater, pearl extract, collagen and hydrolyzed protein.
The natural cellulose mask sheet is very light and easy to lay on the face.
The 1st step : Marine waterful essence can be boosting essence absorbed lightly 

The 2nd step : 

Soft & Pearl deep moisture sheet mask can fit your face line firmly to help absorption of the essence that can provide feeling of moisture and vitality from deep clean ocean makes moisture barrier for firming 

The 3rd step : Cover up Marine Eye cream for face can be tighten your skin after use the sheet mask
HOW TO USE:

1. After cleansing, lightly apply the Step 1 essence and absorbed into the skin to give it a boost.
2. Take out the Step 2 sheet mask and smooth it over the entire face.
3. Remove the mask after 10-20 minutes and gently pat the remaining essence into skin.
4. To finish, apply the Step 3 eye cream around the eyes and mouth. Apply it all over the face for better results.
INGREDIENTS:
Step 1: water, glycerin, dipropylene glycol, sea water, butylene glycol, 1,2-Hexanediol, hydrolyzed collagen, hydrolyzed conchiolin protein (1,000ppm), pearl extract (2,000ppm), Undaria Pinnatifida extract, codium fragile extract, enteromorpha compressa extract, laminaria japonica extract, Salicornia herbacea extract, sodium hyaluronate, hydrolyzed hyaluronic acid, sodium acetylated hyaluronate, olea europaea (olive) fruit oil, tocopheryl acetate, polysorbate 20, Ethylhexylglycerin, carbomer, tromethamine, disodium EDTA, phenoxyethanol, gragrance 
Step 2: water, mathylpropanediol, glycerin, beta-glucan, hydrolyzed conchiolin protein (1,000ppm) pearl extract (2,000ppm), allantion, sea water, butylene glycol, 1,2-Hexanediol, hydrolyzed collagen, undaria pinnatifida extract, cofium fragrile extract, enteromorpha comressa extract, laminaria japinica extract, salicornia herbacea extract, sodium hyaluronate, hydrolyzed hyaluronic acid, aodium acetylated hyaluronate, PEG-60 hydrogenated castor oil, polymethylsilsesquioxane, Dimethicone, isohexadecane, cetearyl methicone, PEG-40 stearate, steareth-2, steareth-21, carbomber, tromethamine, hydroxyethylecellulose ethylhexylglycerin, disodium EDTA, phenoxyethanol, Fragrance
Step 3: water, dipropylene glycol, glycerin, mineral oil, cetearyl alcohol, glyceryl stearate, caprylic/capric triglyceride, isohexadecane, Stearic acid, butyrospermum parkii (shea butter), theobroma cacao (cocoa) seed butter, hydrolyzed conchiolin protein (1,000ppm), pearl extract(2,000ppm), Sorbitan sesquioleate, sea water, butylene glycol, 1,2-Hexanediol, hydrolyzed collagen, trehalose, PEG-100 stearate, undaria pinnatifida extract, codium fragile extract, enteromorpha compressa extract, laminaria japonica extract, salicornia herbacea extract, PEG-40 stearate, sodium hyaluronate, hydrolyzed hyaluronic acid, sodium acetylated hyaluronate, dimethicone, carbomer, tocopheryl acetate, tromethamine, hydroxyethycellulose, ethylhexylglycerin, disodium EDTA, phenoxyethanol, fragrance
The JMsolution Marine Luminous Pearl Deep Moisture Mask is the product you didn't think you need, but once you have it, something you won't want to live without.

Inventory Last Updated: Sep 27, 2023