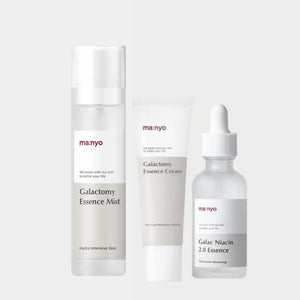 Set of three essential skincare products
Set Includes:
Galactomy Essene Mist 120 ml
Galactomy Niacin 2.0 Essence 50ml 
Galactomy Essence Cream 50 ml 
Galactomy Essene Mist: Moisturizing and radiance-boosting facial mist formulated with galactomyces ferment filtrate helps balance moisture level and keeps skin feeling plump and hydrated.
Galactomy Niacin 2.0 Essence:A fast-absorbing serum that visibly brightens and helps revive dull skin. Renewed from its first edition, Galactomy Niacin 2.0 Essence now contains 2 times more of brightening agent, niacinamide, to help skin quickly achieve a visible healthy glow. Packed full of rejuvenating active ingredients including Galactomyces ferment filtrate, glutathione, panthenol and hyaluronic acid, this serum promotes the natural appearance of radiance for more even complexion.
Galactomy Essence Cream: Energy-boosting cream formulated with galactomyces ferment filtrate that helps brighten the skin tone while refining the look of skin texture for a soft and radiant skin. This moisturizing cream also helps to reduce the appearance of fine lines and wrinkles. Galctomyces ferment filtrate is a by-product of fermented sake, Nutrient-dense in vitamins and antioxidants, it gives protection from environmental stressors and strengthens moisture barrier.
Every product is unique, just like you. If you're looking for a product that fits the mold of your life, the Galactomy Special Set is for you.

Inventory Last Updated: Sep 26, 2023