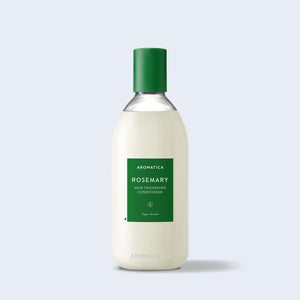 Volume: 400ml
Do you still use conditioner containing silicon? Silicon makes hair smooth instantly, but it can block the penetration of nourishment into hair and clog pores on scalp. This plant-based 99% silicon-free conditioner makes hair bouncy and soft. The silicon-free base provides gentle care to scalp and hair and fundamental conditioning care to hair.

Organic Babasu oil and Moringa Oil rich in fatty acids form a natural shiny coating film over dry, frizzy hair, and Vegetable Glycerin and sugar cane-derived betaine moisturize dry hair. Extracts of rosemary, pine needles, basil, and oregano using a decoction method make hair healthy with nourishment care, and ingredients of Biotin (Vitamin B7) and Panthenol (Pro-Vitamin B5) restore hair to its elastic, soft state by strengthening thin hair.

Experience holistic aromatherapy by dispensing conditioner onto your palm and breathing in the scent. α-Pinene and verbernone ingredients from rosemary promote blood circulation on scalp, and sesquiterpene-based β- hamazulene substance from cedarwood helps cleanse scalp and awaken its dormant vitality.
HOW TO USE:
1.
Rosemary Scalp Scrub
: Use 2-3 times a week in place of shampoo or before shampoo. Apply a moderate amount onto wet scalp. Delicately massage into the scalp, add some water, lather, and rinse thoroughly. Massage until the sea salt melt away, then rinse thoroughly.
2.
Rosemary Scalp Scaling Shampoo 
: Massage a moderate amount into wet hair and scalp. Lather well and rinse thoroughly.
3. Rosemary Hair Thickening Conditioner: After shampooing, apply evenly throughout hair length. Leave in 2~3 minutes and rinse thoroughly.
INGREDIENTS:
99% Natural-derived ingredients

Rosmarinus Officinalis Leaf Extract(53.6%)
, Pinus Densiflora Leaf Extract,
Glycerin(Plant-derived moisturizer)
, Caprylic/Capric Triglyceride(Plant-derived emollient), Cetyl Alcohol(Emulsion stabilizer), Behentrimonium Methosulfate(Hair emollient), Stearyl Alcohol(Emulsion stabilizer), Cetearyl Alcohol(Plant-derived emollient), 2)Rosmarinus Officinalis Leaf Oil(1,852mg), Ocimum Basilicum Leaf Extract, Origanum Vulgare Leaf Extract, Zingiber Officinale Root Extract,
1)Orbignya Oleifera Seed Oil(1,200mg), 1)Moringa Oleifera Seed Oil(Moringa seed extract, 2mg), Betaine(Sugar beet-derived moisturizer), Bifida Ferment Lysate(Fermented moisturizer), Lactobacillus Ferment Lysate(Fermented moisturizer), Biotin(Vitamin B7), Panthenol(Vitamin B5), Caffeine(Antioxidant)
, Chamaecyparis Obtusa Leaf Extract, Rosa Rugosa Leaf Extract, Polyquaternium-10(Emollient), 2)Styrax Benzoin Gum(Benzoin oil), Melissa Officinalis Leaf Extract,
2)Cedrus Atlantica Bark Oil(Cedarwood oil)
, 2)Cupressus Sempervirens Oil(Cypress oil), Guar Hydroxypropyltrimonium Chloride(Guar-derived hair emollient), 2)Abies Sibirica Oil(Pine oil), Aqua, 2)Limonene(Ingredient in Rosmarinus Officinalis Leaf Oil), 1,2-Hexanediol(Emollient)
1) Organic raw material(s) 2) Naturally found in essential oil(s)
On the fence about this Aromatica Rosemary Hair Thickening Conditioner? Don't be. Let our satisfaction guarantee address your concerns.

Inventory Last Updated: Sep 27, 2023