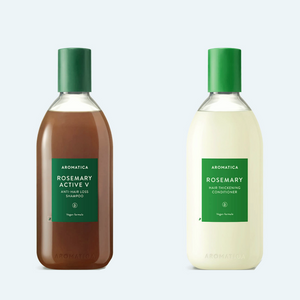 Set includes:
Aromatica Rosemary Active V Anti-Hair Loss Shampoo 400ml
Rosemary Hair Thickening Conditioner 400ml
Modern lifestyles require constant styling and unhealthy diets, causing stress hair breakage and loss.

This Active V formula merges the fortifying care from the outermost layer to reduce hair loss and protect scalp.

Vitamin Active V awakens and vitalizes the dormant scalp. A healthy scalp takes part in producing healthy hair, playing the role of the strong hair holder that does not allow hair to fall out easily.

Revitalize your scalp with Vitamin Active V containing 5 types of vitamin and MSM. Microprotein rich formula restores damaged hair to health and smoothness Microprotein from superfood penetrates deeply into hair fiber, repairing hair from within to reduce breakage and protect barrier on hair and scalp. A smoothing touch helps detangle and retain luster.

Experience holistic aromatherapy presented by Rosemary ActiveV Anti-Hair loss Shampoo. Instead of artificial fragrance, rosemary that provides clean care to the scalp and cedarwood essential oil that gives vitality to scalp calm down the scalp and mind and offer you lively energy as if you are reborn every single day.
HOW TO USE:
STEP 1
. Rosemary ActiveV Anti-Hair loss Shampoo:
Massage a moderate amount into wet hair and scalp. Lather well and rinse thoroughly.
STEP 2. 
Rosemary Hair Thickening Conditioner:
After shampooing, apply evenly throughout hair length. Leave in 2~3 minutes and rinse thoroughly.
STEP 3.
Rosemary ActiveV Anti-Hair loss Tonic:
Spray closely to the scalp so it covers all parts. Spray evenly all over the scalp and message gently with your fingertips or Wooden Scalp Brush.
Imagine if you could be satisfied and content with your purchase. That can very much be your reality with the Aromatica Rosemary Hair Care Duo Set.

Inventory Last Updated: Dec 08, 2023