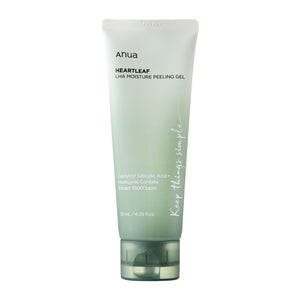 Volume: 120ml
The Anua Heartleaf LHA Moisture Peeling Gel will be your secret to smoother, healthier, and more radiant skin. Specially formulated with advanced fourth generation hydroxy acid, LHA (capryloyl salicylic acid), this peeling gel offers a gentle yet highly effective exfoliation experience, perfect for even the most sensitive skin types.
Say goodbye to excess sebum, stubborn debris, and pesky dead skin cells. This innovative LHA based peeling gel breaks down impurities, revealing a fresher complexion beneath. But that's not all – this exceptional LHA also works wonders for your skin's long-term health. Witness the magic of improved collagen production that helps combat wrinkles and fine lines, while also tackling hyperpigmentation for a more even skin tone.
We love how it is enriched with BioDtox, a powerful blend of Aloe Ferox Leaf Extract, Broccoli Extract, and Bioflavonoids, this peeling gel goes beyond the surface. It delves deep into your pores, banishing trapped dead skin and creating a velvety-smooth canvas you'll love. The natural yellow vibrancy of this peeling gel is a result of the 10,000ppm of Heartleaf Extract infused within. Known for its hydrating and soothing properties, heartleaf extract ensures your skin feels pampered, calmed and comforted.
Embrace the luxurious sensation of its soft, moisturizing gel-like texture. Crafted with hypoallergenic cellulose, it synergizes seamlessly with LHA to provide an exfoliation experience like no other. Use 1-2 times weekly for best results.
HOW TO USE:
Dry your face after cleansing. Evenly apply a small amount all over the face, avoiding the eyes and lips. Gently massage skin in circular motions to thoroughly exfoliate, then rinse off impurities with water.
The Anua Heartleaf LHA Moisture Peeling Gel is a sensational customer favorite, and we hope you like it just as much.

Inventory Last Updated: Dec 11, 2023