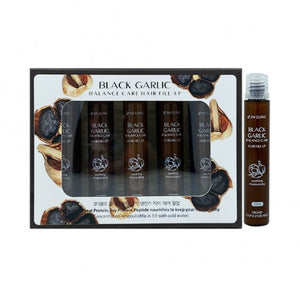 Volume: 10pcs x 13ml (2024/01/04)
The fillers contain three main intensive ingredients: Black Garlic extract, hydrolyzed collagen and henna, which together promote active growth, restoration of the scalp and hair along the entire length, prevent hair loss, protect hair from external environmental influences, add volume and shine to hair. Suitable for all hair types, especially recommended for dry and brittle hair.
HOW TO USE: 
The filler should be mixed with an equal volume of water in a non-metal container and wait a couple of minutes.
Then distribute through clean and dry hair, focusing on the ends and damaged areas. Better to warm your head with a towel or thermal cap. 
After 20 minutes, rinse with lukewarm water.
INGREDIENTS:
Propylene Glycol, Ethanol, Cetrimonium Chloride, Myristyl Alcohol, Stearate, Midopropyl, Dimethylamine, 1.2-Hexanediol, Panthenol, Allantoin, Yeast / Garlic Fermentation Fruit (1,000 ppm), Hydrolyzed Sudan White Matter, Hydrolyzed Wheat Protein, Hydrolysis Soybean Protein, Acetylhexapeptide-8, Carpetripeptide-1, Mitoyl Pentapeptide-4, Triphiltide – 1, Palmitoyltripeptide-1, Hexapeptide-9, Nonipeptide-7, Purified Water, Purslane Extraction, Butylene Glycol Flavoring, Limonene, Linalle, Hexylsynamal, Geraniol, Alpha-Isometal, Citral Precautions.
The 3W Clinic Black Garlic Balance Care Hair Fill Up  is evocative, to say the least, but that's why you're drawn to it in the first place.

Inventory Last Updated: Dec 11, 2023